Rainbow Satellites Installing Sky Freeview TV and Satellite systems

Address
Reg. Calle Sierra de Maria 9 Puerto de Mazarron Murcia 30860
Mobile: 686 358 475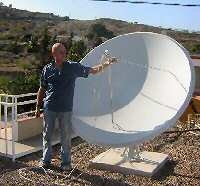 Rainbow Satellites is an owner run business that's been trading within the Murcia Region for over 20 years.
We also have team of people who work with us part time under our supervision, Alan worked in the industry for some years prior to setting up Rainbow Satellites. We cover the whole Murcian Region and have many happy clients…… References & client contacts are available.
We can work with community groups in new build apartments and developments to get the most economical TV installation to suit the clients. We fit many dishes in rural areas."FOR ALL YOUR TV NEEDS"
---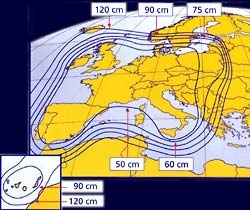 What About British TV Viewing In Spain??
The main satellite that transmits UKprogrammes is focused tightly on the UKand in this region of Southern Spainwe are on the very edge of the signal.
The satellite also moves so as to power up its solar batteries and because of this some signals become weaker at various times of the day. The signal is also transmitted on 2 separate beams - Northern and Southern, the Northern beam being weaker than the Southern one. Therefore we require larger dishes to be installed in Spainthan the little meshy ones used by Sky in the UK.
Weather - it does rain in Spainand on those rainy cloudy days signal is affected ! This does not happen often, but you should be aware that UK TV in Spainat times is not perfect... If you want perfect British TV stay in England!!!
Channel Transmissions - Some channels are occasionally moved to other satellites or beams and this can affect your station reception. You can loose or gain channels; this is entirely at the broadcasters discretion. The moving of satellites can some times affect viewers in the UK too.
---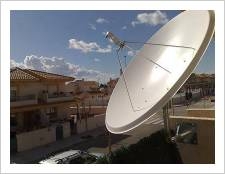 Location, Location, Location
Dish location can be critical, when buying a property don't automatically assume you will be able to receive all the TV stations you want. If you are in a town house with the house facing the wrong way and houses either side shielding the satellite signal it may be impossible. We get calls from people out in the campo (country side !) saying "I'm not sure whether the signal will get here?". It's often better in larger open spaces, but beware of tall trees as they can be a nightmare. So location of property/ dish are very important factors when thinking of a satellite installation. It's a good idea when purchasing a property and TV is important to you to have a site visit done before you buy to be sure TV is possible.
---

What About Digi Boxes And Viewing Cards?
There are basically two types of systems available:-
(a) FREE SAT…….RUN BY BBC/ ITV- after installation , no ongoing charges and viewing of all the major digital channels. Digi Boxes available are
Free sat SD Free sat HD Free sat +(HD standard.)
Sky subscriptions that you pay for monthly and opens many channels. There are over 90 sky packages available and these are listed on www.Sky.Com. Subscription price is the same as in the UK- however packs are more limited over here. Sky SPORTS are the channels most people subscribe for.

There are many makes and models of digibox available. However not all of them work with the weak signals here in Southern Spain. If you have a digi box that you are planning to use in Spainenquire with us about its suitability.
Additional Services- We can supply a basic digi-box but the ultimate Rolls Royce of digi-boxes is the Sky+ or Free sat + these give you the ability to watch and record at the press of a button. You can pause live TV and the box is so simple to use !.

Remote TV senders: -These little bits of kit send the signal from your main TV and digi-box to another TV they are great to use if you want to watch TV outside on your terrace or by the pool!!
Spanish antenna & TDT BOX( LIKE FREE VIEW IN UK)
Giving you around 25spanish digital channels with the ability to change some channels back into English
| | |
| --- | --- |
| Contact Murcia Today: Editorial 966 260 896 / Office 968 018 268 | |