Date Published: 24/01/2022
Mazarrón beaches: Playa Gachero, dog friendly beach
One of three dog friendly beaches in Mazarrón
Playa Gachero is a semi-urban Mediterranean beach at the eastern end of the 35-kilometre Mazarrón coastline, close to the boundary with Cartagena.
This is one of three beaches within the Mazarrón municipality which have been designated as dog friendly, and is the closest to main residential areas. It is the smallest of the three and those wishing to give their dogs a good run in the open are advised to seek one of the other two options, which are also lower density: these are Playa de las Cobaticas and Playa Sierra de Las Moreras (next to Playa Castellar).
Playa del Gachero is located at town end of the beach of El Alamillo, and starts as a sandy strip then changes to a pebbly beach which occupies the space around a rocky outcrop.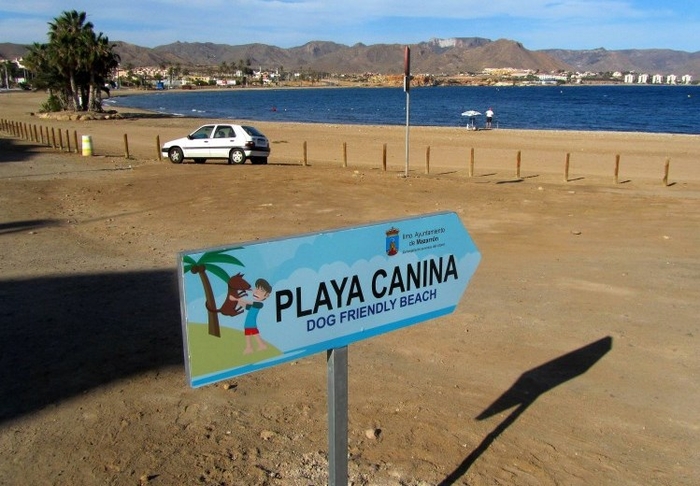 It is not particularly attractive for sunbathers and its pebbled nature makes it less alluring for humans, who prefer the sandier shores of El Alamillo, but it has fewer waves than its neighbour and the clear, clean water is highly attractive to our hot and furry dog friends.
There is parking next to the remains of the Roman villa on rough ground next to the beach of El Alamillo, and a footwash with fresh water on the beach of El Alamillo in summer. There is a bus-stop nearby on the urban Mazarrón-Murcia route.
The beach is clearly signed and the area in which dogs can be let off the lead indicated by wooden posts.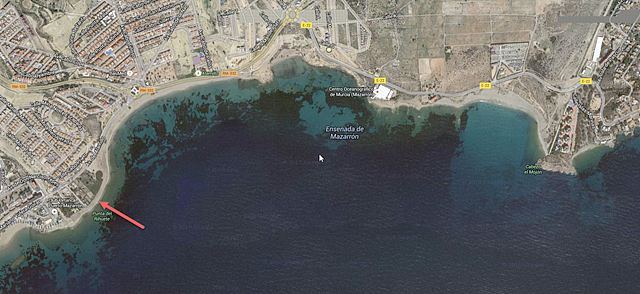 Rules for dogs on the beach:
Dogs may be let off the lead once on the beach, but must be controlled by their owners and care must be taken not to disturb or annoy other beach users.
Potentially dangerous animals must be muzzled, and kept under control.
Owners must pick up excrement and deposit it in the bins provided.
All of the dog's paperwork must be in order and up-to-date and animals must be micro-chipped and fully vaccinated.
Failure to abide by these common-sense rules can result in fines of between 750 and 3,000 euros in line with municipal by-laws regarding the ownership of dogs within the municipality.
Dogs are NOT permitted on other beaches and must be kept on a lead at all times, both in the streets and countryside areas of the municipality.
It is a bone of contention with dog owners that by law they are not permitted to allow their dogs off the lead, even in countryside areas, but although a blind eye is frequently turned, severe financial penalties can be imposed should an officer decide to abide by the letter of the law.
For more local information go to the home page of Mazarrón Today, or here for an overview of all 33 beaches in the municipality of Mazarrón.
Contact Murcia Today: Editorial 966 260 896 / Office 968 018 268