Mazarrón beaches: Playa del Barranco Ancho, nudist beach

An attractive wild cove at the foot of the Sierra de las Moreras in Mazarrón
One of 33 beaches which are to be found along the 35-kilometre coastline of Mazarrón between the municipalities of Cartagena and Lorca, Playa del Barranco Ancho is the sixth official nudist beach reached by the 12-kilometre track which winds along the coast from Bolnuevo through the Sierra de Moreras to Puntas de Calnegre.
Those who have travelled along the rough track linking Bolnuevo to the Puntas de Calnegre will notice a marked difference in the landscape by the time they reach this point, as the ground starts to flatten out and the beaches become sandier.
This area of the Sierra de Moreras is full of hardy esparto grass, harvested by the Romans and used for a multitude of purposes ranging from shoe manufacture to rope and baskets. Agricultural activity in this area focused around livestock farming and a little fishing, and there is evidence of abandoned farmsteads in the countryside.
This area of land has not been ploughed up and turned over to plastic-coated tomato greenhouses, a sight encountered a little further west.
This beach is at the mouth of the Rambla de Villalba, a rambla being a natural floodwater channel. It is an attractive little cove but small, measuring just 80 metres by 12 metres, and is hardly visited due to the distance from both Bolnuevo and Cañadas de Gallego. There are no services.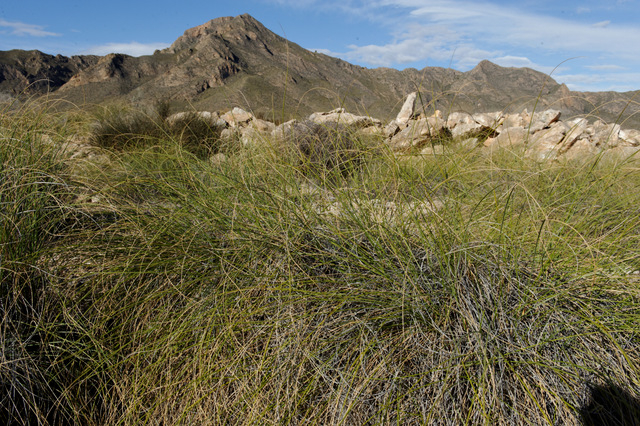 The run of wild beaches in Mazarrón
Mazarrón is blessed with an extraordinary range of beaches, with everything from wide swathes of sand to rocky coves, dog-friendly areas and nudist beaches.
Between Bolnuevo and Percheles the coast is wild and stunning, and the run of beaches from be accessed only via a rough dirt track on foot or by bicycle, with a succession of secluded bays. From 1st July 2017 most of the track has been closed to motor vehicles and the only access is via cycle or on foot.
None of these beaches is equipped with special disabled access, although once the coastline reaches Percheles and Cañada de Gallego it is possible to walk out of the car and straight onto the sand/shingle. Here the coastline is accessed from a rough, bumpy road which runs along for around 12 kilometres.
If you're the type of person who loves to get away from the crowds and appreciates wild beauty, then you'll love this stretch of coastline.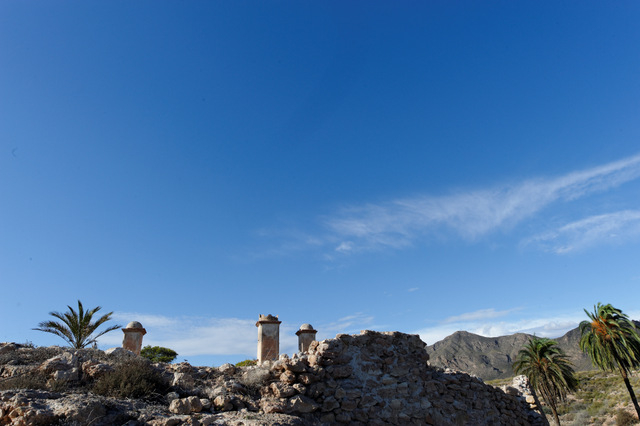 The stunning scenery is peppered with abandoned ruins, and there is a huge choice of rocky bays, sandy coves, and secluded corners to bathe privately, even in the busy summer period. The area is popular with naturists and it's not uncommon to see the odd gleaming bronzed buttock or two, and a couple of the nudist beaches are also very popular with the gay community. But the area is so large that it is always possible to steer away if you choose: you can stop anywhere and be as private, or as public, as you want.
There are absolutely no facilities, so bring everything and remember to take litter home.
It's also very popular with local cyclists, especially mountain-bikers, and walkers.
Access
From Bolnuevo, drive along the seafront, past the wind-eroded rocks to the end of the road next to Playa del Rincón, where limited parking is available. From here, the beaches can only be accessed on foot or by bicycle.
From Puntas de Calnegre and Cañada de Gallego, just keep the sea on your right! There are many dust tracks from the road and the tomato plantations to the coast.
For more local information go to the home page of Mazarrón Today, or click here for an overview of all 33 beaches in the municipality of Mazarrón.
Contact Murcia Today: Editorial 966 260 896 / Office 968 018 268