Mazarrón beaches: Playa de la Pava

The Playa de la Pava is a small, curving beach located in a semi-urban environment.
The Playa de la Pava is a Mediterranean beach in the built-up area of Puerto de Mazarrón, one of a line of 33 along the 35-kilometre coastline of Mazarrón between the municipalities of Cartagena and Lorca.
It is 2.2 kilometres from the centre of Puerto de Mazarrón and is easily accessed from Avenida D.José Alarcón Palacios, which forms part of the long coastal road linking the town to Bolnuevo.
This area is lined with residential houses and apartments, with a number of small dead-end streets running off the main road down to the edge of the beach. These provide plenty of parking, although during the summer, when the population of the municipality swells from 30,000 to 150,000, space does become limited. There are also bicycle racks and some spaces allocated for disabled parking, although during the summer there's very little chance of finding one unoccupied.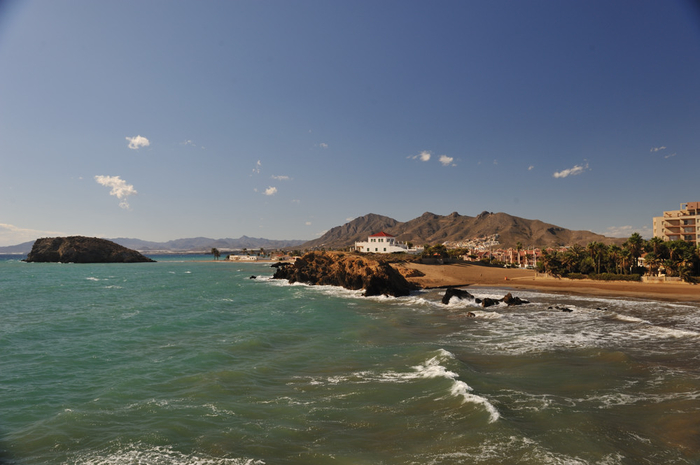 The beach is also serviced by the urban bus on the urban Mazarrón-Murcia route.
This beach runs from the Punta de Gavilanes to the Punta de Nares and cuts right to the edge of the roadside, where there is a limited amount of parking space.
The Punta de Gavilanes is home to an important archaeological site used by successive cultures, with remains dating back as far as the Argaric period in around 1900 BC. There is little to actually see today in archaeological terms, but the outcrop offers superb views across the coastline.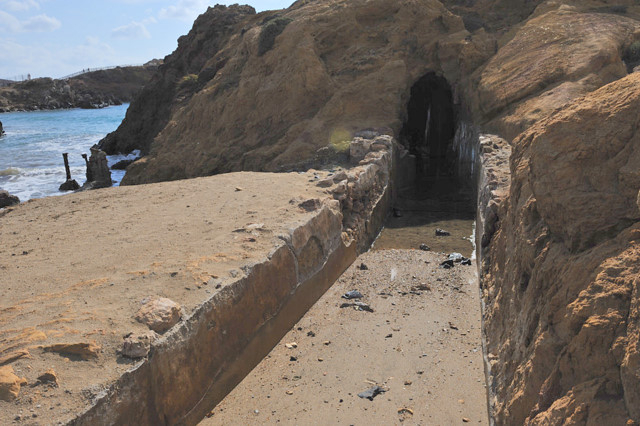 The other end of the beach is close to the remains of another Mazarrón industry in past times: the "salinas", or salt flats. Here seawater was drained into vast flat pans which dried out in the sun to leave the salt behind. Most are now buried beneath the residential developments which fringe this area of the coast, but the original inlet channels which would have fed a vast area of salinas can still be seen. A mechanical pump pushed the water into the salinas, feeding them from this inlet system.
The beach
The beach is 100 metres long, by 29 metres wide, and even though there are larger sandy beaches to either side it attracts its fair share of the visitors, as the sand is fine and soft.
To the left as you look out to sea is the vast Playa de la Reya and to the right the equally large Playa de Nares.
During the summer it´s busy due to the plethora of apartments nearby, and has footwash facilities and children's play areas. There are plenty of restaurants and cafés within a short distance and more extensive services on neighbouring beaches.
For more local information go to the home page of Mazarrón Today, or click here for an overview of all 33 beaches in the municipality of Mazarrón.
Contact Murcia Today: Editorial 966 260 896 / Office 968 018 268