Mazarrón beaches: Playa de la Grúa, nudist beach

One of a series of nudist beaches on the rocky coastline between Mazarrón and Cañada de Gallego
One of 33 beaches which are to be found along the 35-kilometre coastline of Mazarrón between the municipalities of Cartagena and Lorca, Playa de la Grua is the third official nudist beach reached by the 12-kilometre track which winds along the coast from Bolnuevo through the Sierra de Moreras to Puntas de Calnegre.
Its name means "crane beach" - as in lifting device, not wading bird - a name which only becomes logical when walking around the edge of this little bay and encountering blocks of cut stone on the "Punta de Grúa". These date back to the eighteenth century, when a small port was built to transport stone from the mountains of the Sierra de las Moreras to Cartagena, where it was used to build the military arsenal amongst other things. The same stone was used in the main buildings in Mazarrón, such as the Casas Consistoriales, at a time when the mines of Mazarrón were active and generating great wealth.
Popular legend attributes the construction of this little port to the Romans although the blocks visible today are most definitely eighteenth century!
The beach is little more than a thin strip of pebbled shoreline, measuring 85 metres by 12, and is mostly covered in pebbles and posidonia seagrass, of which there are large meadows just offshore. This prevents erosion and provides an important habitat for marine life, but as the beaches are not cleaned mechanically along this stretch of coastline deposits can build up on the shore.
There is also a coastal track joining Playa Amarilla which is popular with both walkers and mountain bikers.
This beach is designated as a nudist/naturist beach.
There are no services.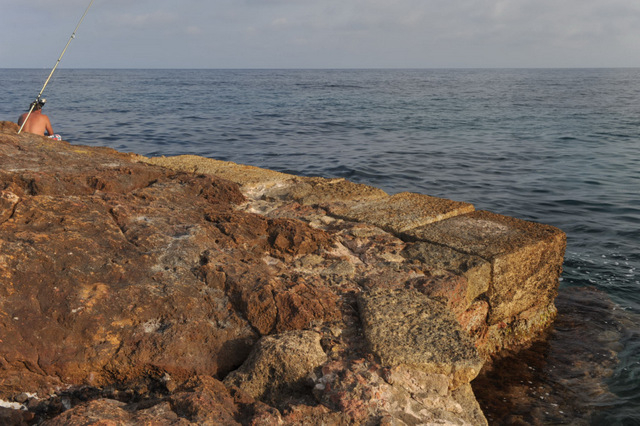 The run of wild beaches in Mazarrón
Mazarrón is blessed with an extraordinary range of beaches, with everything from wide swathes of sand to rocky coves, dog-friendly areas and nudist beaches.
Between Bolnuevo and Percheles the coast is wild and stunning, and the run of beaches from be accessed only via a rough dirt track on foot or by bicycle, with a succession of secluded bays. From 1st July 2017 most of the track has been closed to motor vehicles and the only access is via cycle or on foot.
None of these beaches is equipped with special disabled access, although once the coastline reaches Percheles and Cañada de Gallego it is possible to walk out of the car and straight onto the sand/shingle. Here the coastline is accessed from a rough, bumpy road which runs along for around 12 kilometres.
If you're the type of person who loves to get away from the crowds and appreciates wild beauty, then you'll love this stretch of coastline.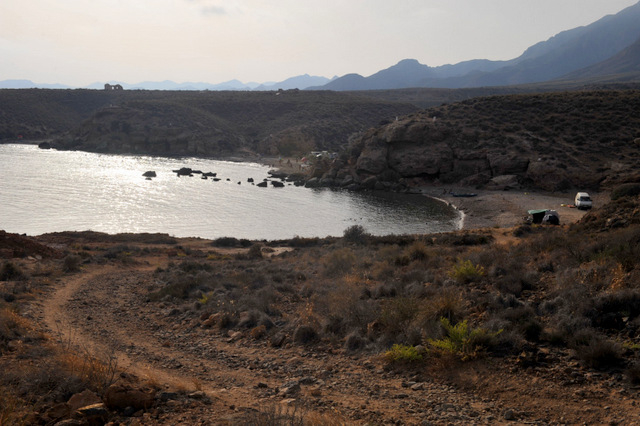 The stunning scenery is peppered with abandoned ruins, and there is a huge choice of rocky bays, sandy coves, and secluded corners to bathe privately, even in the busy summer period. The area is popular with naturists and it's not uncommon to see the odd gleaming bronzed buttock or two, and a couple of the nudist beaches are also very popular with the gay community. But the area is so large that it is always possible to steer away if you choose: you can stop anywhere and be as private, or as public, as you want.
There are absolutely no facilities, so bring everything and remember to take litter home.
It's also very popular with local cyclists, especially mountain-bikers, and walkers.
Access
From Bolnuevo, drive along the seafront, past the wind-eroded rocks to the end of the road next to Playa del Rincón, where limited parking is available. From here, the beaches can only be accessed on foot or by bicycle.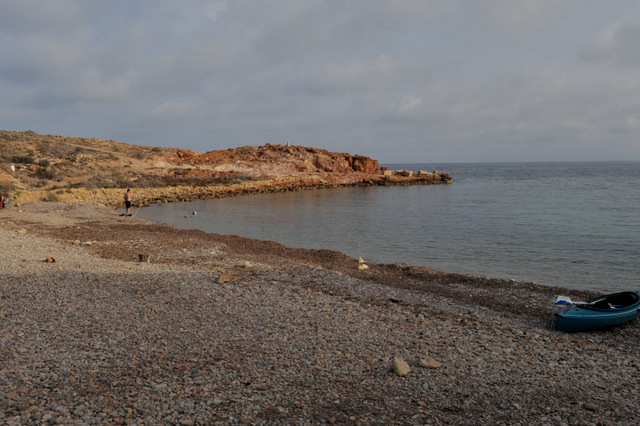 From Puntas de Calnegre and Cañada de Gallego, just keep the sea on your right! There are many dust tracks from the road and the tomato plantations to the coast.
For more local information go to the home page of Mazarrón Today, or click here for an overview of all 33 beaches in the municipality of Mazarrón.
Contact Murcia Today: Editorial 966 260 896 / Office 968 018 268