Date Published: 20/11/2023
Nights finally drop to zero degrees in Murcia: Weekly weather forecast November 20-26
ARCHIVED ARTICLE
-
The cold is finally starting to settle in for good this week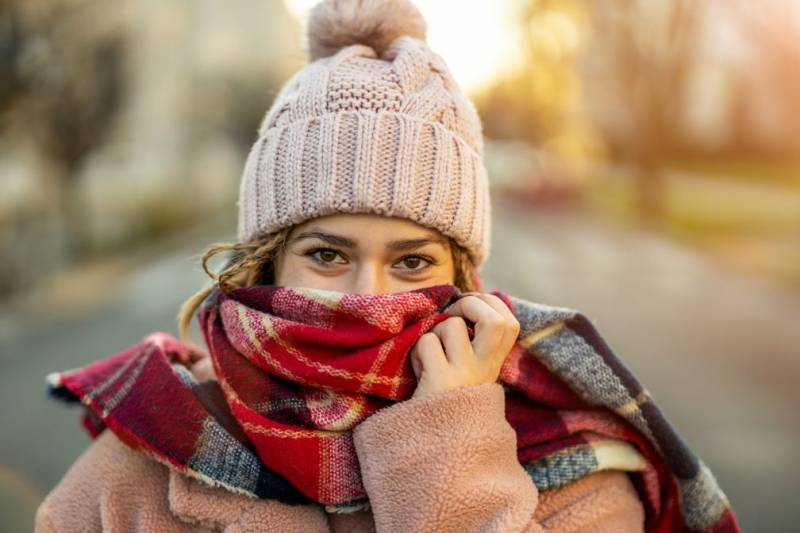 While the sunshine will persist and we will have clear skies all this week in the
Region of Murcia
, it will feel much colder as temperatures at night drop down to 0ºC in some places.
The descent begins this Monday November 20, which will be a misty and foggy day in coastal areas, and continues over the course of the week until the temperature hits a low point on Thursday November 23.
Although it will still be mainly sunny during the daytime, aside from more mist and fog forecast for
Tuesday 21
, little cloud cover is forecast. By midweek the maximum temperatures will reach up to highs of 19ºC in the central and southern parts of the Region, while at night it will be as low as zero around
Jumilla
,
Yecla
and the north. On the coast it will still be 7-9ºC at night and around 3-5ºC inland.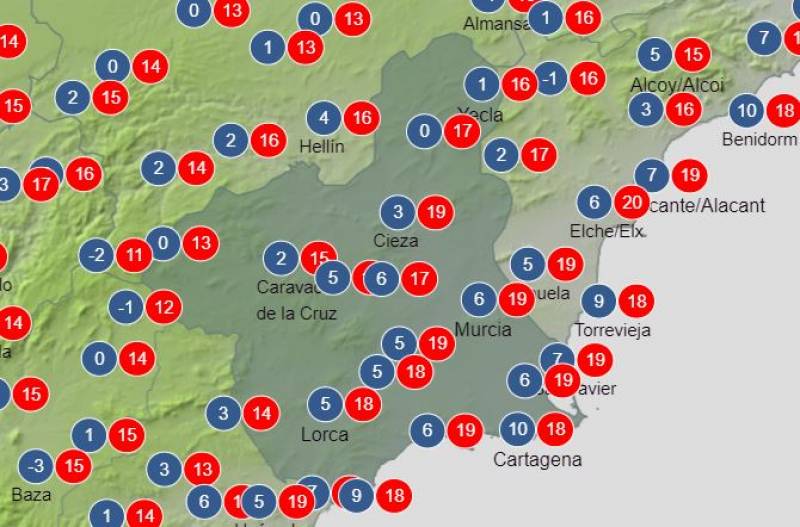 Minimum and maximum temperatures in Murcia, Thursday November 23
For the most part it will be calm and not too blustery, although there could be gusts of wind of up to 30kmh in
Mazarrón
on Tuesday afternoon.
Incredibly, the relative humidity on Sunday November 26, which will be the cloudiest day of the week by far, is set to reach up to 100%.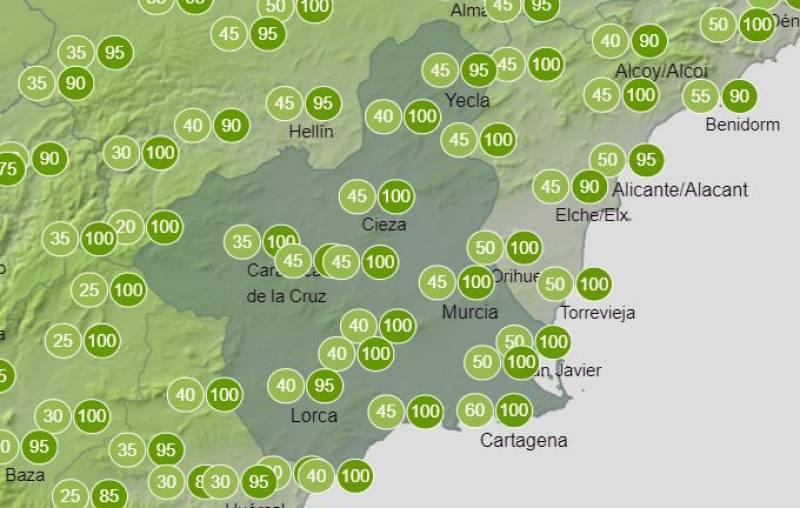 Relative humidity in Murcia, Sunday November 26
Even though it's getting colder, it is still sunny enough in Murcia to keep producing energy and heating your home using solar power. For a free, no-obligation quote on solar panel installation in Mazarrón,
Camposol
and the southern area of Murcia, contact
Ecocorp Solar
.
Minimum and maximum temperatures in Murcia this week
Monday November 20: Min 7ºC; Max 26ºC
Tuesday November 21: Min 5ºC; Max 23ºC
Wednesday November 22: Min 4ºC; Max 22ºC
Thursday November 23: Min 0ºC; Max 19ºC
Friday November 24: Min 0ºC; Max 22ºC
Saturday November 25: Min 3ºC; Max 23ºC
Sunday November 26: Min 1ºC; Max 20ºC
Tiempo previsto en La Región de Murcia desde 20-11-2023 hasta 26-11-2023. Info siempre actualizada en https://t.co/3N0qorPKFO pic.twitter.com/RUfe66SxWS

— AEMET_Murcia (@AEMET_Murcia) November 20, 2023
Images: Aemet
Address
Parque 'El Real' Antas Almeria 04628
Tel: +34 950 096 166
Mobile: +34 671 716 597

ECOCORP SOLAR BUSINESS LISTING
Almeria's Nº 1 family run solar installation company is now covering Camposol & Mazarrón. Ecocorp Solar SL has 16 years of experience in the design and configuration of bespoke solar power system for their clients. They are experts in providing solutions and supplying systems for all types of properties, and their knowledgeable and friendly team will work closely with you to provide and install a system that meets your unique requirements.
Using cloud-based technology, Ecocorp Solar offer their virtual battery service to those customers who are tied to the grid, enabling the customer to feed back excess energy. This energy is stored in their virtual battery and drawn down when the sun isn't shining. Thus, the client has the opportunity to use 100% of their solar energy production and to reduce the price of their electricity bill significantly. All systems are linked to your computer, mobile or tablet so that you can monitor your consumption AND your savings on the App.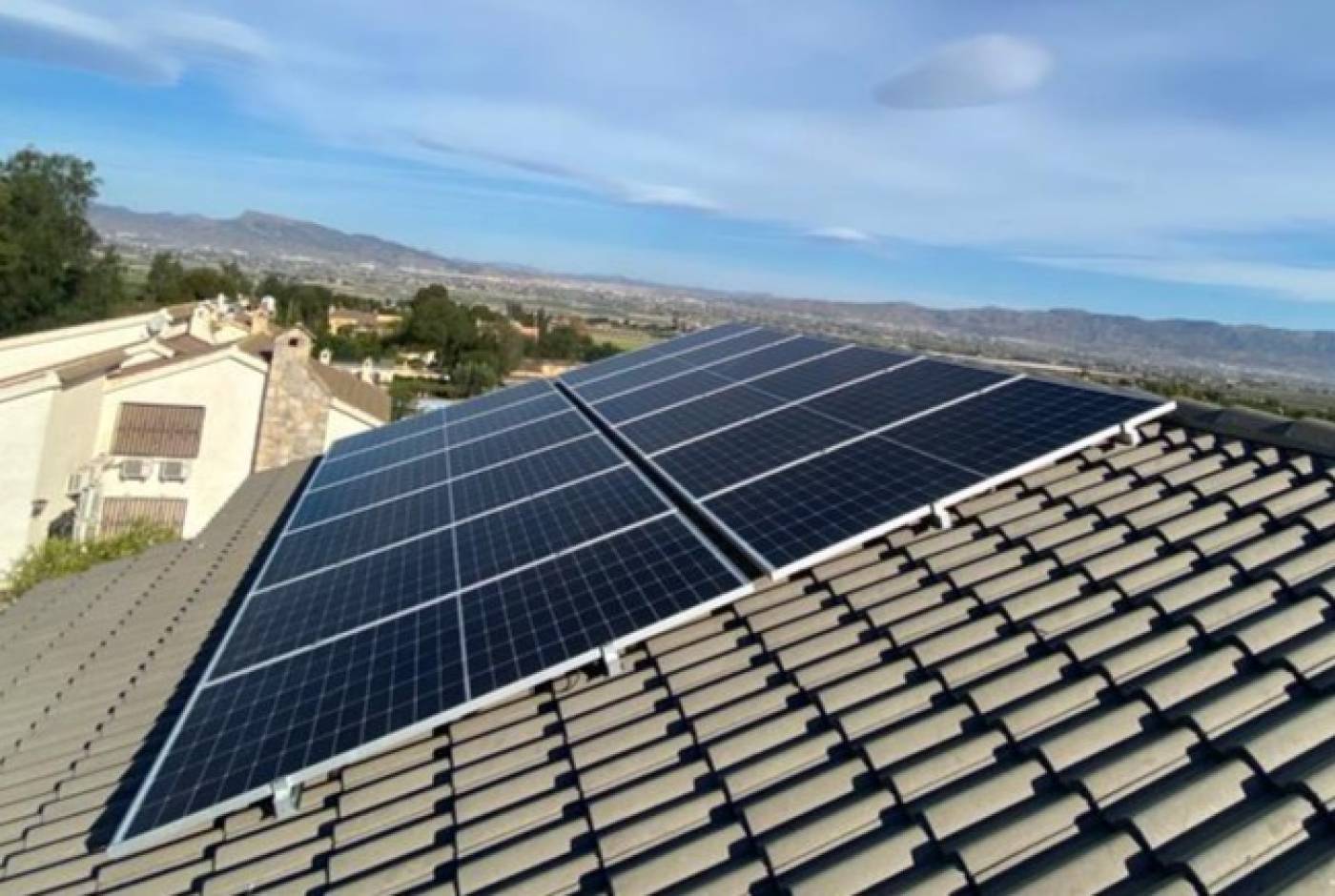 Customer service is paramount for Ecocorp Solar – in a recent* customer satisfaction survey, 100% of their customers said that they would recommend them to others.
*Based on a 9-month client satisfaction survey dated between August 22 and April 23
Ecocorp Solar offer a FREE no obligation home assessment and quotation service. They deal with all the necessary technical and administrative paperwork for you. Where government grants are available Ecocorp will do the paperwork and submit the application on your behalf.
Opening/Contact Hours
Monday – Friday: 9am to 6pm
Phone the Ecocorp Solar Office on +34 950 096 166 or the Sales team on +34 671 716 597, or use the contact box above to get in touch with Ecocorp Solar today.
Contact Murcia Today: Editorial 966 260 896 / Office 968 018 268