Date Published: 14/11/2023
Buy a smartphone or tablet for 1 euro: Black Friday deal from Excom Telecable
ARCHIVED ARTICLE
-
Take advantage of this incredible Black Friday deal from Excom Telecable to get a new tablet or phone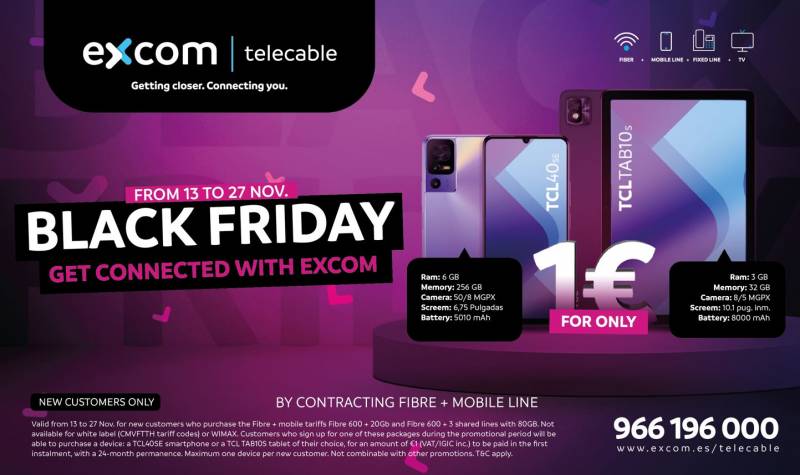 From November 13 to 27,
Costa Blanca
telecommunications company Excom Telecable is offering the chance for new customers to buy a smartphone or tablet for just 1 euro when they contract a Fibre + Mobile line package.
New Excom Telecable customers who purchase the Fibre + mobile tariffs Fibre 600 + 20GB and Fibre 600 + three shared lines with 80GB before November 27, 2023 can pay just 1 euro extra to get a TCL40SE smartphone or a TCL TAB10S tablet.
The TCL phones have 6GB of RAM, 256GB of Memory, a 50/8-megapixel camera and a 6.75" screen.
The TCL tablets have 3GB of RAM, 32GB of Memory, an 8/5-megapixel camera and a screen size of just over 10".
To learn more about this and other great deals on internet and mobile in Spain, contact Excom Telecable today:
Excom / Telecable offers top value internet, television and telephone services using a combination of wireless and fibre optic to provide flexible, fast and reliable services to thousands of users in the Alicante province and Mazarrón and Los Alcázares in the Murcia region.
With nearly 30 years of reliable service (Telecable Santa Pola was founded as a fibre optic television provider for the town of Santa Pola in 1993 before expanding rapidly throughout Alicante), Grupo Telecable, a company of Excom, connects thousands of users to essential communications services, guaranteeing reliability, quality service with an ample and experienced technical back-up team, extensive coverage and realistic and competitive pricing for internet, as well as landline or mobile telephone, and television with over 170 international channels.

We currently offer our services in the majority of the Alicante province and some areas of Murcia. We connect thousands of customers in Denia, El Altet, Arenales del Sol, Gran Alacant, Santa Pola, La Marina, Campo de Elche, Guardamar, San Luis – La Siesta – El Chaparral – El Dorado – El Limonar – Punta La Vívora – El Salado – Torretas – Torrevieja – La Zenia – Los Dolses – Villamartín – Las Filipinas – Los Montesinos – Orihuela Costa – La Mata, Los Alcazares and Camposol.
We solve any problem that might occur with your connection within 24 hours or less using our own highly trained service team.
What are our principal services?
Internet
Services offered from just 20 euros per month, either via wireless or fibre optic connections and telephone and television services can be added for complete packages, and they always have attractive offers and deals on, so ask about their latest promotions.
Wimax telecable gives a secure and stable connection for areas without fibre optic coverage, offering guaranteed speed for the service you choose and up to 50 Mbps transmission.
Fibre optic FTTH packages connect directly to your home, so there is no branching, no loss or variation in the fast connection speed and no falsification of the upload speed possible; the speed we quote is the speed you get.
• This is a reliable, secure and trustworthy service and we passionately believe that we offer the best internet service in the areas we cover with a reliable signal, connecting your computer, mobile phone, gaming consol, tablet and more to enjoy internet connection in the comfort of your home or office.
In addition, holiday home owners can suspend the Internet, television and landline telephone service, and with just an email can activate or deactivate the service as often as they wish.
Social media:
Facebook: www.facebook.com/excom.es/
Instagram: www.instagram.com/excom_es/
Our branches :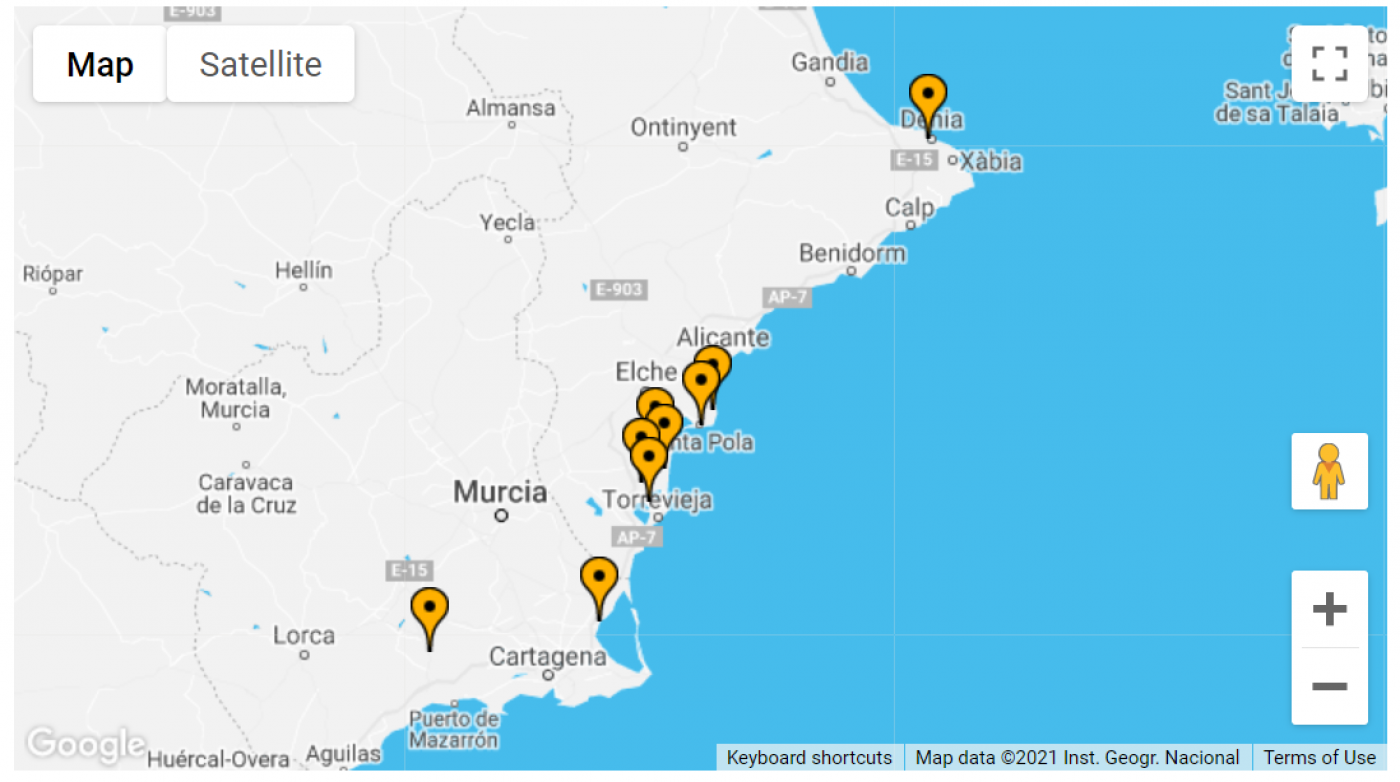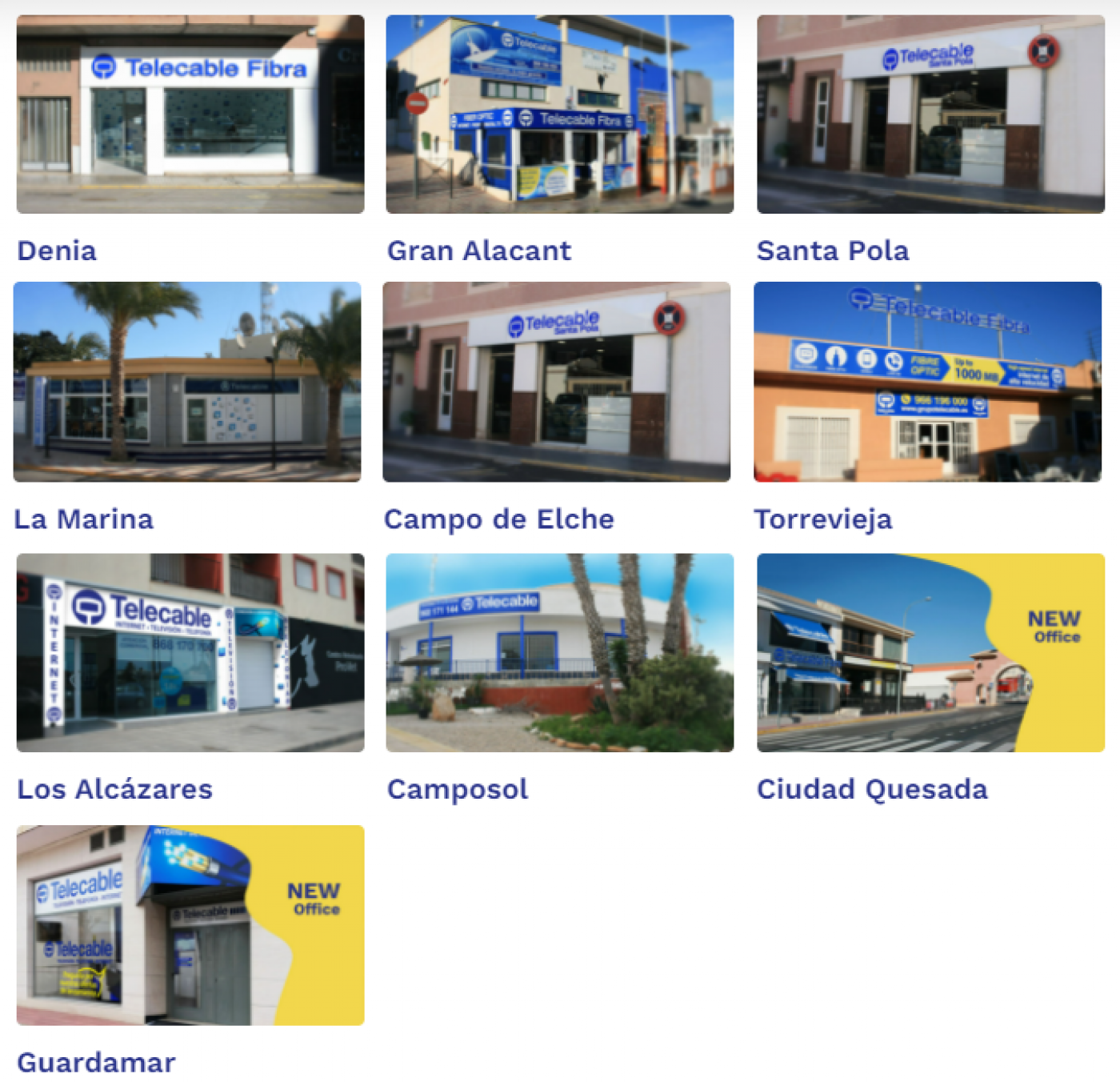 Alicante province:
Denia: Av. de Valencia,50. Phone: 966196001

Gran Alacant: Av. Escandinavia, 72. Phone: 966196000

Santa Pola: Plaza Maestro Quislant, 6. Phone: 966694005

La Marina: Calle Estocolmo, Rotonda de las Antenas. Phone: 966196000

Guardamar: Calle Madrid, 21. Phone:966196000

Ciudad Quesada: Av. De Las Naciones, 1.Phone: 966196000

San Luis: Plaza Tolosa. Phone: 966196000

Murcia region:
Los Alcázares: Av. De La Libertad, 257. Phone: 868 17 07 00

Camposol: C.C. Sector A. Phone: 968 17 11 44

Contact Murcia Today: Editorial 966 260 896 / Office 968 018 268